[ad_1]

News briefs for the week take a look at Nissan's all-robot factory, Japan's AI-controlled forklifts and inspection robots, cobots mastering the ancient art of knife making, Gary the home robot…is also good around the office, security robots on patrol, and eel-like subsea robotic arms servicing deep-water operations.
Nissan's all-robot auto plant
Only "smart" robots need apply for work at Nissan's brand new "intelligent" auto plant.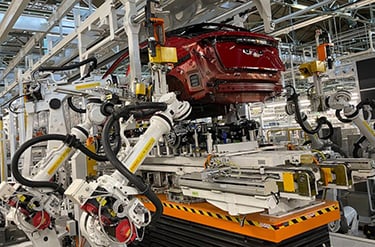 "Up to now, people had to make production adjustments through experience, but now robots with artificial intelligence, analyzing collected data, are able to do it. The technology has developed to that level," said Nissan Executive Vice President Hideyuki Sakamoto.
All-robot "production adjustments" include all of the welding, joining, mounting …even painting—which the robots QC themselves—plus, installing EV, hybrid, or combustion engine powertrains in succession on the same production line.
The factory, in Japan's Tochigi prefecture, is scheduled for full production mode in April 2022. Nissan said the innovations being tested in Tochigi will be gradually rolled out at its other global plants, including French alliance partner Renault's factories.
Nissan has announced plans for $1.14 billion in enhancements of its global factories; $290 million was invested in the Tochigi plant. Tochigi is the third key production facility for Nissan in Japan after Kyushu and Oppama, each with a production capacity of about 250,000 units annually. That's over 2,000 thousand vehicles a day per auto plant.
AI-controlled robots "for hire"!
The rent-a-robot movement is catching on in Japan. Japanese/Israeli joint venture brings AI-controlled AMR forklifts and inspection robots to warehouses…with an option to rent the robots by the hour or by project or task.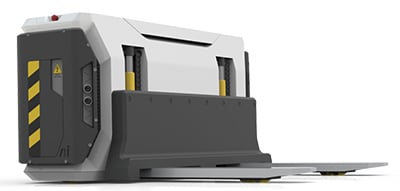 Musashi Seimitsu (a division of Honda), its subsidiary Musashi AI, and Israeli logistics automation developer 634AI, have combined to bring AI-controlled logistics robots to major Japanese 3PL Suzuyo's distribution center (see video).
MusashiAI's AMR forklift and visual inspection robots, managed by 634AI's MAESTRO navigation and fleet management software are scheduled to scale up joint operations across all Suzuyo distribution centers in Japan.
Fleets of Musashi's FAF or fully-autonomous forklifts and visual inspection robots will be offered for purchase or as a Robot-as-a-Service (RaaS) model, by the hour or by project or task.
Controlling an entire warehouse, MAESTRO sets a workplan for forklifts and then guides them throughout every work task. The vision inspection robots work at a rate of under 2 seconds per work piece for an above 98% accuracy rate.
Cobots keep quality edge on knife production
Daily it seems that the versatile cobot is in the news taking on ever-newer challenges.
One of the newest is the transformation of the formerly all-manual, labor-intensive cutting-tool production—knives, scissors and other fine-edged implements—at a 400-year-old Chinese manufacturer.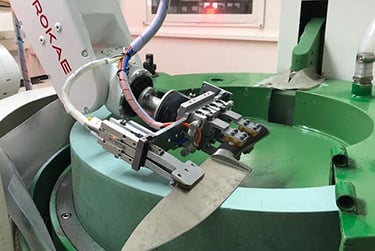 Beijing-based startup (2015) Rokae's cobot installation at the Zhang Xiao Quan factory took on the intricate process of carefully calculated steps in grinding, deburring, polishing and sharpening a steel blank into a precision, sharp-edged tool.
Rokae set up two cobot-powered production stations: one for sharpening and another for wet grinding, polishing and deburring which increases efficiency and consistency.
According to Rokae, "the wet grinding station automatically feeds materials to the robot within 10 seconds, pushing the operating rate—or ratio of products produced to products that can be produced—to 95 percent. Meanwhile, the sharpening station can raise efficiency by more than 50 percent."
The cobots consistently apply the same grinding techniques to give the blades a uniform shape, "normally a difficult task for a manual workforce."
Rokae has entered into a strategic partnership with Mirka, a Finnish company that is the world's leading supplier of expendable grinding tools and materials.
At home—or office—with Gary the robot
It's not just Amazon's Astro tooling around homes these days, big boy Gary from Israel-based Unlimited Robotics is ready to take on jobs in both home or office. Gary also has a developer's platform, so who knows what tricks he'll be up to in the near future.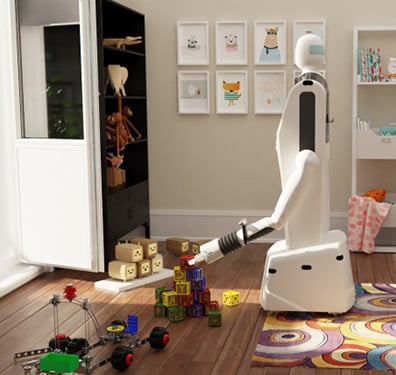 Gary is a four-footer that tips out at 88 lbs. and can motor along on 4 omni-directional wheels at 3 mph. Gary's low-slung, 65-inch arms have 7 DoF, with a three-finger gripper on one hand and two-finger gripper on the other. Gary can tote 3 lbs. in his grip (see video)
The company's website prices Gary this way: "For consumers who joined the waiting list, Gary costs $ 99/month or a one-time payment of $ 5,900." You can cancel the subscription any time "provided that a basic commitment of 60 months is charged." Availability scheduled for 2022.
In a recent interview, the company claims that "Gary can autonomously navigate its surroundings, moving through both new and familiar places…[ and] also holds capabilities to navigate outdoor and uneven terrain, such as grass, carpets and tiles."
CEO Guy Altagar, explained the importance of the developer's platform that makes Gary a one-of-a-kind home robot. "Usually, a standard robot or an electronic device can perform only one function," said Altagar.
"With our technology [developer's platform], we are bringing a new way to build several mechanical and operational applications—all in one device."
Patrol robot trials for security and safety
Two, autonomous patrol robots, both named "Xavier", each equipped with seven cameras apiece, are, according to project manager Michael Lim, Singapore's "new weapon against insecurity."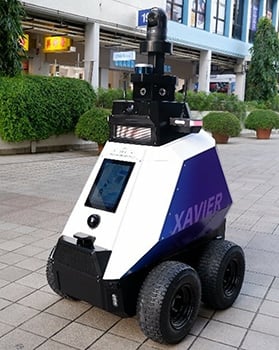 Built by Singapore-based Home Team Science and Technology Agency (HTX), a government operated security and safety developer, the patrol robots will be trialed for three months in order to assess their effectiveness.
An HTX news release described the patrol robots' activities as: weaving autonomously through crowds in Singapore's Toa Payoh Central retail and residence area to detect undesirable social behaviors, including smoking in prohibited areas, illegal hawking, improperly parked bicycles, gatherings of more than five people (COVID restriction), and motorized vehicles on footpaths.
Robotics, Automation & Unmanned Systems (RAUS) Centre of Expertise, one of 15 expertise centers at HTX, built the autonomous Xavier patrol robots. They are equipped with a sensor set that allows them to detect and avoid objects, vehicles and pedestrians. Their onboard cameras enable 360-degree dashboard video, even in low light with infrared cameras; and the captured video can be quickly analyzed by a system of artificial intelligence.
When a Xavier detects a violation, it simultaneously signals the command center while displaying a message on its screen to inform and warn the public.
Eel-like robotic arm conducts subsea repairs
The Eely500 is a slender and flexible-bodied robot arm designed for subsea inspection, maintenance, and repair (IMR). It is battery powered and modular, with interchangeable power thrusters and variable payload segments.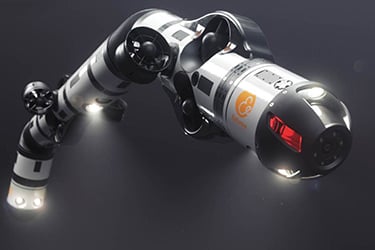 The Eely500 can convert from single-arm to dual-arm configuration with different end-effector tools on either arm
The autonomous subsea arm is designed for servicing underwater installations remotely, without the need for expensive surface vessels and tech staff, or even divers, for support.
The eel-like, robot arm can bend and twist and slide into narrow confines and gaps, and operate submerged 24/7, even in harsh underwater currents or during a surface storm. In fact, it can be permanently moored under water and autonomously recharge itself when necessary. Straightening out into a torpedo shape, it can travel long distances at high rates of speed.
The Eely500 was designed and produced by Norway's Trondheim-based Eelume AS (established in 2015), which is a spin-off from the Norwegian University of Science and Technology (NTNU) and co-owned by Kongsberg Maritime.
Eelume says its subsea robot arm is adaptable for offshore oil and gas operations, aquaculture and other types of subsea activity.


[ad_2]