[ad_1]

News briefs for the week take a look at Amazon's mobile home robot, robots as insurance claims adjusters, China's new-age physical therapy robots, robots that patrol and monitor power plants, Agrobot's Bug Vacuum, and mobile robots that identify and classify everything at a construction site.
Astro: Amazon's mobile home bot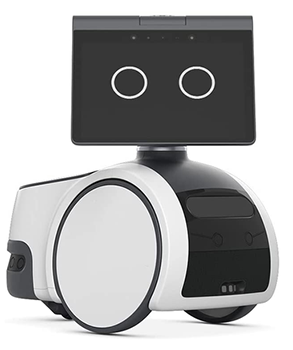 With Alexa inside the home and Ring on the front door, Amazon rounds off its entrance into family living spaces with its mobile robot, the 2-foot-tall, 20-pound Astro.
The little home bot's specs have it stuffed with goodies. A FireOS with two Qualcomm chips, with artificial intelligence processing built into the chipset. A tablet for a face that can be used for video chats, an array of sensors, cameras, and microphones, and a 5-megapixel video calling camera. It can also play music from its teeny speakers: "Astro, play Billie Eilish."
Five motors give Astro a bit of power, which also helps with any payload of less than five pounds that it might be toting around in its small rear trunk.
In an interview, Amazon's hardware chief Dave Limp said that beyond eldercare and home security, the company wasn't too sure what in-home functions or chores for Astro would be the best fit. However, an early-bird price tag of $999, designed to get thousands of Astros into homes ASAP, is supposed to help with customer feedback on just what exactly Astro does best.
After the $999 introductory period, the price will be set at $1,449.99.
Insurance industry to tab robots as claims adjusters
Already successfully utilizing drones to assess damage in disaster areas, insurance companies, most notably the Travelers and Farmers insurance companies, as well as the United Services Automobile Association, will now enlist land-roving robots for up-close inspections, assessments and adjustments.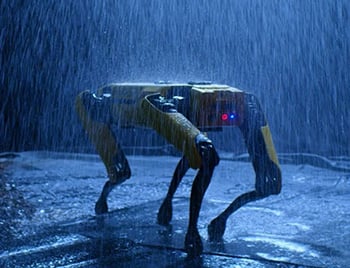 "All these technologies are about augmenting the capacities of the so-called knowledge workers," said Patrick Van Brussel, research director at International Data Corp (IDC).
Farmers will be the first insurance carrier to deploy Spot, the mobile robot from Boston Dynamics.
Spot, equipped with a pan-tilt-zoom camera "will allow for 360-degree image capture and a thermal camera will detect hot spots. Images captured by the robot will be transmitted to Farmers' claims systems, where human adjusters and image-analysis systems will help determine the extent of the property damage."
"Spot gives us the ability on the ground to see what's ahead of us. Things that may be difficult for an adjuster to see," said Samantha Santiago, head of claims strategy and automation at Farmers.
International Data Corporation (IDC) is forecasting the global insurance industry to spend $1.7 billion on robotic systems in 2025, up from $602 million today.

Chinese rehab robots to expand physical therapy offerings
Shanghai-based Fourier Intelligence, a startup (2015) known for its exoskeleton and rehabilitation robotics, has acquired a rehabilitation services provider, Zhuhai RHK Healthcare (founded 2017), which builds rehabilitation departments for hospitals and trains staff to operate them.
Together, the combined companies will offer rehab robotics and services to meet the needs of China's massive—and rapidly aging—population. Zhuhai RHK Healthcare counts 200 hospitals among its clients for rehabilitation services.
Fourier specializes in easy-to-use devices that also incorporate a data interface to "garner clinical data pertinent for our work," said Niu Chuanxin, an associate professor in the Department of Rehabilitation Medicine at Shanghai Jiao Tong University.
The number of people in China aged 60 and above is projected to grow to 433 million in 2040, or 30% of the total population, up from 166 million, or 12%, in 2010, according to a United Nations estimate. 
Fourier's robotic rehab systems are certified as medical devices by regulators in Australia, China, Japan, Singapore and the U.S.
Kilox-Tech mobile robots inspect power systems
Kilox Technology, a Shenzhen-based startup (2019), develops mobile robot technology and artificial intelligence software for inspection and monitoring services, especially for fire prevention, explosion prevention, radiation prevention, target tracking and search, edge computing, and emergency response capabilities.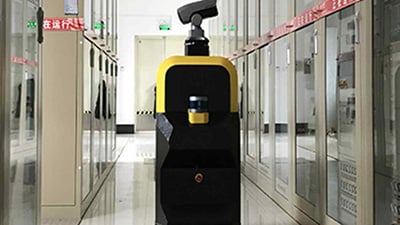 The company mainly targets power companies.  Capable of moving around autonomously, observing, recording and analyzing, the Kilox mobile robot automatically designs its own routes and makes inspections.
"It takes over inspections conducted by human workers, diagnosing problems and pointing out abnormalities. It can visualize and quantify the situation of equipment within a facility in real time, helping to improve the maintenance and operation of equipment and to enhance the stability of its operation."
"As use of IT-loaded, next-generation power grids increases, the need for power systems to monitor equipment in real time is increasing," explains founder and CEO Wang Huaiqing. "Manual labor is inefficient and no longer can satisfy this need. Such needs and issues have driven the development of unmanned inspection rounds."
Agrobot's Bug Vacuum protects crops
Seems strange that an agricultural field robot is built to hunt down and eradicate a single bug species; but it's true. La Palma, Spain-based Agrobot's Bug Vacuum is kryptonite to the lygus bug, which, in turn, is a heavy-duty crop killer in the U.S. (Pacific Northwest) and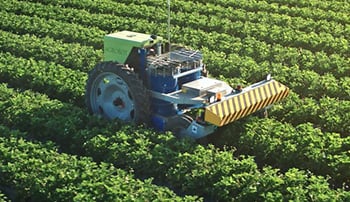 southern Canada.
For example, California's $3 billion annual strawberry crop is a sweet victim of $100 million in damage from the lygus bug. Lygus bugs also feast on a wide array of other crops, including apple, peach, nectarine, and pear; legume and hay for seed (e.g., alfalfa, clover seed, and canola); and carrots and radish. Much of the species, according to Dr. Timothy A. Delbridge, California Polytechnic State University, is resistant to many forms of insecticide.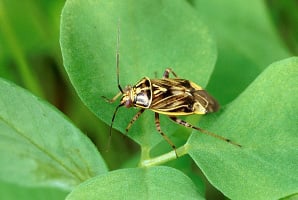 Agrobot claims: "There is widespread resistance in lygus to many of the insecticides, so, mechanical bug vacuum is an efficient method to remove this insect."
Typical insecticide control programs can entail 6-8 applications of insecticide per season, the neurotoxins of which represent a known direct human health hazard to applicators and workers exposed in the fields, plus water-soluble insecticides cause toxicity to freshwater supplies and aquatic organisms.
The Bug Vacuum navigates reactively across crop fields; a farmer just has to handle it to the kickoff point and select 'Automatic Mode' (see video).
Gilbane and NeXtera Robotics Form JV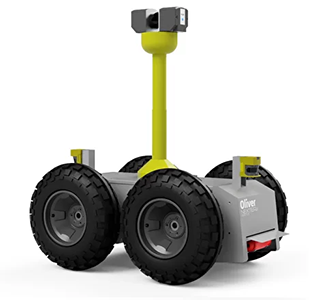 Most construction-site robots perform jobs using their mechanical labor; a new class of construction robot roams sites collecting data and uploading it to the cloud. Gilbane Construction and Boston-based NeXtera Robotics have formed a joint venture (JV) for robots to perform the latter.
According to Lana Graf, NeXtera's founder and CEO, "neural networks trained on thousands of trips around construction sites not only are developing the ability to independently navigate sites but also to identify and classify everything they see—from workers' personal protective equipment to the different mechanical-electrical-plumbing components running throughout the site."
Alex Chryssis, Gilbane senior manager: "We have the whole building, floor-by-floor, documented. It [robot] does the floors and ceilings as well, everything is covered."
Future robots could take many different shapes and sizes, but would all be trained on navigation and site-awareness data from earlier versions, adds Graf.
Eric Cushman, operations manager of Gilbane's Connecticut business unit: "Our senior general superintendent is stuck in meetings all day long, but now he can log into the database, see what areas are complete, and if there is a lag in an area, he can send more manpower if there's a schedule implication."
Gilbane already has plans to bring the NeXtera robots to projects in New York City and Chicago later this year, with more deployments scheduled for 2022.


[ad_2]