With game-changing services to help you get the best outcomes – for AI, hybrid cloud, security and much more – HPE Discover 2022 has you covered for every step of your digital journey.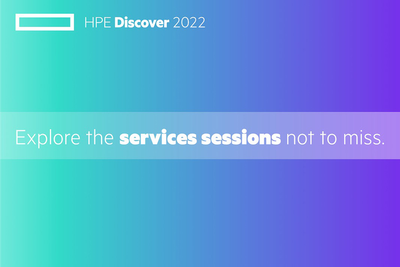 At HPE Discover 2022, the edge-to-cloud conference, you'll find the best of edge, cloud, and everything in-between – all in one place! Once again, you can attend the event LIVE in Las Vegas, June 28-30, 2022, or choose to participate virtually.
From the latest insights in secure connectivity, to hybrid cloud, to AI and unified data analytics, HPE Discover 2022 is the best place to find the information you need to stay ahead of the trends and technologies that will rapidly move your business forward.
Join HPE experts, industry luminaries, and leading companies and organizations and learn how to accelerate your data-first modernization from edge to cloud.
Register here for HPE Discover 2022!
We invite you to explore the full line-up of sessions on our content catalog. You can create your personalized agenda here. 
Experience 3 Action-Packed Days!
Creating digital advantage doesn't have to require making tradeoffs. Join us at HPE Discover 2022 to hear the latest on the HPE GreenLake edge-to-cloud platform, the cloud that comes to you. Engage with our experts and fast-forward what's next for your enterprise with hands-on sessions to take your vision to execution in record time.
You will find numerous opportunities expand your expertise. Brush up on the basics, or geek out with an extensive training and certification program that offers courses that can't be found anywhere else. Hewlett Packard Enterprise Discover 2022 Tech Academies provide hands-on learning opportunities, with expanded technical opportunities and interactive tools to help you and your company achieve success and prepare for the future.
Discover Services from HPE: Expert Guidance for What's Next
To help you navigate the event, we've put together a list of recommended sessions and demos to include in your agenda-builder. Our services experts will have an extensive presence in sessions and in demo areas on the floor, with dedicated and centrally located areas to feature our expertise. We've grouped some key presentations by topic for you below.
Digital Transformation/Edge-to-Cloud
Sessions:
Building the Edge-to-Cloud Digital Enterprise (Session ID: BB5050)
Organizations looking beyond 2022 are framing their business strategies around their digital ambition. Achieving enhanced business value requires the IT landscape to stretch from the Edge, where value is realized, to cloud-everywhere platforms, where their ambition is supported by the capabilities presented in a new operating model. HPE Digital Advisors use very effective visualizations and exploration methodologies to help explore and shape your digital ambitions, and here we'll introduce you to them, using customer examples.
A Strategic Four-Step Approach to Data-First Modernization Adoption (Session ID: BB5049)
Data-first thinking matters. Enterprises that use this approach move faster than their competitors. Leaders emerge only when they identify the need to architect a data-first operating model. Breaking data-first adoption into these four steps is easy to digest and can help speed you along the pathway to achieving a modern, data-first organization.
Demos:
Activate your digital ambition with the Digital Journey Map (ID: DEMO419)
How easy is it to visualize, orchestrate, and communicate major transformational change? How do you shift from uncoordinated efforts around technologies, operations, and agendas to aligned activities? The Digital Journey Map models digital initiative agendas from across an organization. It captures them in a coherent and visual way that allows executives and teams charged with change to break the barrier of "lack of clarity" and start solving some of the downstream barriers to progress.
Digital Transformation Advisors (45 minute sessions by appointment) (ID: DEMO1022)
The Digital Transformation Advisory Program provides you with a tailored 45-minute advisory session with a digital transformation expert. These advisors will explore your key priorities and help you navigate the complex technology landscape which exists across your digital initiatives. You will walk away with a clear understanding of next steps and a uniquely tailored Digital Journey Map to frame and communicate the plan of action.
Network, Workplace & Edge
Sessions:
Edge first: Seven examples of how enterprises are delivering results now (Session ID: BB5042)
With investments in edge computing growing 16% YoY, distributed enterprises are now fully realizing that a better operating model is at hand by switching to an edge-first IT strategy. This session will discuss how HPE customers are getting tangible results by switching to edge-first strategies to realize their next level of operational excellence. Join the session to learn from these cutting edge customers and get inspired to see how these powerful principles can be applied to your organization.
The Way We Work Has Changed Forever. Can Your Technology Keep Up? (Session ID: BB5056)
Providing the future workplace means organizations will have to adapt technology and make it flexible. HPE brings innovative and actionable solutions that are driven by advanced technologies, coupled with the expertise to quickly implement and adapt to rapid change. Maximize productivity and organizational resilience by enabling secure connectivity and seamless and safe digital workplaces for employees across sites, facilities, campuses, home offices, and everywhere in between.
Demos:
Smart Cities: Making cities smarter and safer with AI/IoT (ID: DEMO515)
HPE has solutions for the cities of the future, today. This demo highlights smart and safe city-centric use cases demonstrating a central dashboard for aggregating several IT and OT use cases together to have a single source of truth and a dashboard to monitor KPIs and advanced integrated analytics for smarter and safer cities. We will also cover how to enhance safety at schools, higher education, and public spaces and present intelligent use cases for cities and public spaces.
Into the Metaverse: How virtual reality can change the way we live work and play (we're planning demos in 2 areas) (ID: DEMO417)
How do you bring the human experience to the virtual workplace? Do you still need to travel to meet in-person needs? Virtual reality and augmented reality solutions have made significant progress in recent years and we now can host meetings in a virtual environment with interactions and conversations as if they were in person. Join us to learn how to augment your interactions with virtual reality. This will include demonstrations around virtual reality, HPE MyRoom, SD-WAN, and more!
AI and Data
Sessions:
AI at the Edge: Generating Business Value with Swarm Learning (Session ID: BB5069)
More than just decentralized data sharing mechanism, swarm learning allows for sharing insights without sharing the source data itself. Democratization of model training and AI at the edge such as in hospitals, factory floors, or retail shops provide new possibilities for AI use-cases. The question is, how can organizations capitalize on the new swarm learning paradigm from HPE? Join HPE data and AI experts to hear how HPE can bring business drivers and goals to life and provide business value applying swarm learning to real-life use cases.
Understanding the Hearts and Minds of Your Data Scientists and Delivering Against Their IT Needs with HPE GreenLake (Session ID: BB4900)
About 87% of machine learning models never make it into production. Managing the end-to-end lifecycle of machine learning models and the data science environment edge to cloud is a real challenge. This involves addressing multiple aspects, from data science-optimized HW to the SW stack, tools, and expertise under tight timelines. In this session, you will learn how HPE GreenLake for MLOps can help you and your organization succeed in addressing the challenges.
Demos:
Video analytics and AI training at the edge with SWARM: Managing data and model pipelines in a distributed world (ID: DEMO423)
Using computer vision and fun LEGO building blocks, we combine machine/swarm learning, low-power edge devices, and data pipelines. See how AI and data experts deliver real-world ML use cases to solve business problems across industries. The demo shows how data pipelines are built for analytics and models, from both the core and edge to edge. ML/AI training is distributed and linked together with swarm technologies. Results are shared and business value is delivered.
Deploying and managing AI/ML models with HPE GreenLake for ML Ops (ID: DEMO526)
Want to see how to analyze sentiment on top-trending Twitter feeds leveraging the power of AI and MLOps? Join our experts to see an end-to-end demo of HPE GreenLake for ML Ops. With pre-integrated hardware, software, and services, available in a pay-per-use model, HPE GreenLake for ML Ops can solve some of the hardest problems, such as ML model explainability, model CI/CD, data lineage and governance, and training models at scale.
Security
Sessions:
Building Cyber Resiliency for Your Hyper-Connected Enterprise (Session ID: BB5048)
Until recently, security, BC, and DR teams worked largely in their own worlds, in their own siloes, driven by their own agendas, but cyberattacks are now revealing flaws in this model. To address this, the concept of cyber resiliency has emerged. Cyber resiliency brings together the areas of security, BC/DR, and organizational resilience to create a new operating model for protecting the digital enterprise. Assuming that a breach will eventually occur, it puts processes and tools in place to recover quickly and minimize business impact.
The Reality of Shifting Security Left: How to Modernize and Automate at Scale (Session ID: BB4912)
Take a fresh look at security and what it takes for enterprises to modernize and optimize their approach to DevSecOps and automation. Hear from two expert security customer panelists as they share insights on why it takes a change in mindset to build a security-first culture and their key learnings on shifting security left. Learn how a new approach to collaboration and DevSecOps helps to scale transformation to improve productivity to reduce code defects and security vulnerabilities.
Demos:
Building a cyber-resilient enterprise with zero trust and security automation (ID: DEMO517)
The world is moving faster and is ever more complex. How do you trust it? How do you secure it? Organizations are transforming to become more efficient, and security is often seen as an inhibitor. We believe that when security is done right, it can be a significant business enabler, especially when considering new approaches to zero trust-enabled security architectures or cyber-resilient and automated design principles. Join this demo to learn more about how our services will meet you where you are in your security journey.
Hybrid Cloud
Sessions:
Learn How You Can Accelerate Your Transformation with the Cloud Experience Everywhere from Customers Who Have (Session ID: IS5382)
The cloud experience has shaped what businesses leaders expect across all their apps and data everywhere. However, the vast majority of businesses are challenged with multi-generational IT, legacy applications, and security and compliance requirements that hinder modernization efforts. Hear from executives at Suncor, HPE, and other leading companies as they discuss what they are doing to accelerate data-first modernization and how they are solving some of the toughest hybrid cloud challenges facing their businesses.
Confidently Migrate Your Mainframe Workloads to Hybrid Cloud (Session ID: TB5060)
A mainframe migration can be daunting and complex. Fortunately, HPE's 25+ years of experience provides an end-to-end application migration journey from legacy mainframe to hybrid cloud. Our lowest-risk, step-by-step, proven-intelligent methodology with HPE's automation tools enables organizations to reduce TCO by 70% on average, freeing up resources earlier to modernize. Accelerate application workload modernization from legacy to the right mix of HPE Cloud Services with targeted business applications for IT agility while maintaining SLAs.
Learn from the Past to Predict the Future: Optimize Hybrid SAP Workloads (Session ID: TB5057)
This session shows how HPE Advisory and Professional Services, utilizing AI and analytics, analyzes your existing SAP environments to deliver a blueprint to optimize your future workloads across hybrid cloud SAP environments.
Demos:
Accelerating Application Modernization Using Data Science, Automation and Minimal Code  (ID: DEMO422)
Application modernization is cumbersome for many organizations, even cloud-native modernization with containers. In this demo, HPE Cloud-Native Engineering shows how you can use HPE Right Mix Advisor, HPE Cloud-Native Computing Platform, and vFunction to access, analyze, modernize, build, and operate both legacy and new applications based on data science and automation with minimal code. Bring speed, scalability, and elasticity to the legacy application backlog.
Intelligent multi-cloud management: visibility and control for your hybrid, multi-cloud environment (ID: DEMO424)
Hybrid multi-cloud has emerged as the de facto IT operating model for most enterprises. Given the complexity inherent in these environments, many organizations turn to management platforms and services for help. HPE GreenLake offers intelligent multi-cloud tools and expertise to simplify and optimize enterprise IT. See how the Hybrid Operations Console from HPE GreenLake Management Services provides monitoring, event correlation, on-premises or SaaS CMP, automation, orchestration, and SoC capabilities, all within a single SaaS experience.
Build Your Playlist
Are you planning to attend virtually and want to build your own playlist/agenda? Here's how!
Once you have registered for HPE Discover, log in to the virtual platform to view each of the keynotes, sessions, demos, and hands-on labs you wish to attend.
You can filter your selections based on content type, areas of interest, or keyword search. Then simply click on the "+" icon to add the item to your My Playlist.  You can also download your Playlist into your preferred personal calendar.
We look forward to seeing you in a few weeks – in person or virtually – at HPE Discover 2022!
Learn more about our services and how we help you stay ahead of what's next.
David Crozier
HPE Services Marketing Director
Hewlett Packard Enterprise
twitter.com/HPE_Pointnext
linkedin.com/showcase/hpe-pointnext-services/
hpe.com/pointnext