Many key enterprise applications today are based on old architectural patterns or are running on legacy infrastructure that's inefficient, inflexible and costly to maintain – but how to modernize them? Here are some approaches that deliver impressive results quickly.
By Luis Javier Sanchez, HPE Worldwide Hybrid Cloud Consultant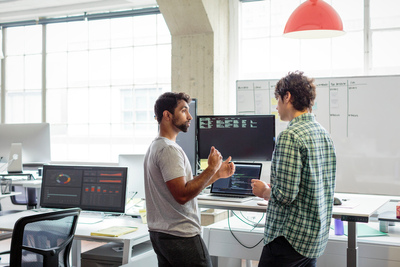 The majority of enterprises run their revenue-generator services on applications based on old architectural patterns running on legacy and proprietary infrastructure. Companies are aware that they need to modernize these applications in order to keep up with the pace that business demands. But how can they do that in ways that deliver impressive results – fast?
I tackled that question in a recent CIO.com article: 5 quick-win paths to application modernization. Here's a quick summary of the five highly effective strategies that I described in the article:
1. Re-host and re-platform to hybrid cloud. Migrate applications off of aging or non-strategic platforms. Consider moving mainframe and UNIX workloads, for example, to Linux or Windows. This may require technical modifications to enable custom-coded applications to work in the target environment, but it won't require changes to the business logic or application language. Consider building a managed hybrid cloud with HPE GreenLake edge-to-cloud platform
2. Transform to modern languages and open source components using automation. Legacy application languages and proprietary components increase running costs and integration complexity. Automatic migration tools enable you to move to modern languages and open source alternatives
3. Containerize applications so they can be deployed anywhere in your hybrid cloud estate. Containerization provides true cloud-native capabilities, with greater portability, faster deployment cycles, improved maintainability, and greater flexibility to scale out.
4. Re-architect to stateless and microservices. Use domain-driven design techniques and tools to refactor traditional applications into modern applications based on microservices.
5. Re-architect to cloud-native architectures. These architectural patterns enable you to design modular applications where components are loosely coupled and deployed automatically in various environments. Applications are more elastic; resources are allocated on demand and adjusted to the resources required.
I unpacked these approaches in more detail in the CIO.com article, and I also looked at the three key principles you should keep in mind as you define your modernization path. Definitely worth a read if you're looking to modernize your applications into the modern hybrid cloud era (See: What is hybrid cloud?).
Learn more about HPE GreenLake cloud services and how we help you deliver business outcomes faster.

Luis Javier Sanchez is an HPE Worldwide Hybrid Cloud Consultant with focus on application migration and modernization. Using 15 years of experience, he helps enterprises understand their application landscape, the design of application modernization and migration paths, and the management of application migration projects around the globe from the initial strategic decisions to the execution of the modernization activities, or the actual migration.
Cloud Services Experts
Hewlett Packard Enterprise
twitter.com/HPE_GreenLake
linkedin.com/showcase/hpe-greenlake/
hpe.com/us/en/greenlake