[ad_1]

Financial services providers are moving to hybrid workplaces at a rapid pace. Integrated VDI solutions from HPE and VMware can help them address their industry-specific challenges.
by Katya Girgus, HPE Alliance Manager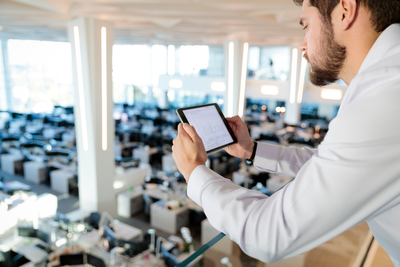 Financial services (FS) organizations are in the midst of multiple digital transformations, ranging from cost optimization initiatives to the astonishing and ongoing advances in the mobile customer experience that we've all become familiar with in recent years. The shift towards a modern digital workplace was flying a little bit under the radar – until the COVID-19 outbreak. (See: What is digital workplace?)
Like everyone else, FS companies faced the sudden need to rapidly expand their work-from-home capabilities. But FS firms doubled down on the hybrid workplace in a big way. According to a PWC survey report, 69 percent of FS companies surveyed in June 2020 said they expected more than 60% of their workforce working from home at least once a week going forward. That's more than double the percentage that gave that response before the pandemic.1
FS firms face many of the same challenges as companies in other industries – for example, the need to provide fast, reliable connectivity and a range of productivity tools. But they have the additional challenge of meeting the stringent security and compliance requirements of their highly regulated industry.
The good news: HPE, together with our partners Intel and VMware, offers a portfolio of high-performance virtual desktop infrastructure (VDI) solutions designed to meet those specific needs. If you'd like to learn about them, a great opportunity is coming up at VMworld, October 5–7. You can register here: VMworld 2021; and check out the HPE microsite here. You won't want to miss this session about HPE and VMware solutions for the digital workplace.
Here are a few highlights of our solutions:
All HPE and VMware VDI solutions are built on the world's most secure industry-standard servers to shield your IT environment from internal and external threats. HPE's Silicon Root of Trust protects against firmware attacks, detects previously undetectable compromised firmware or malware, and enables you to rapidly recover the server in the event of an attack. And it works in concert with VMware Zero Trust.
You can choose the HPE infrastructure that best fits your unique needs, including HPE ProLiant, HPE SimpliVity, HPE Synergy, HPE Moonshot, and HPE Edgeline.
You can tap into the power of HPE GreenLake edge-to-cloud platform. With HPE GreenLake for virtual machines, you can choose from specialized offerings to support specific roles and use cases – including traditional VDI for line-level employees, and "bare metal" VDI for power users such as traders, analysts, and modelers.
For a quick overview of our VDI solutions check out this infographic: Create a hybrid digital workplace for financial services. See the snippet below: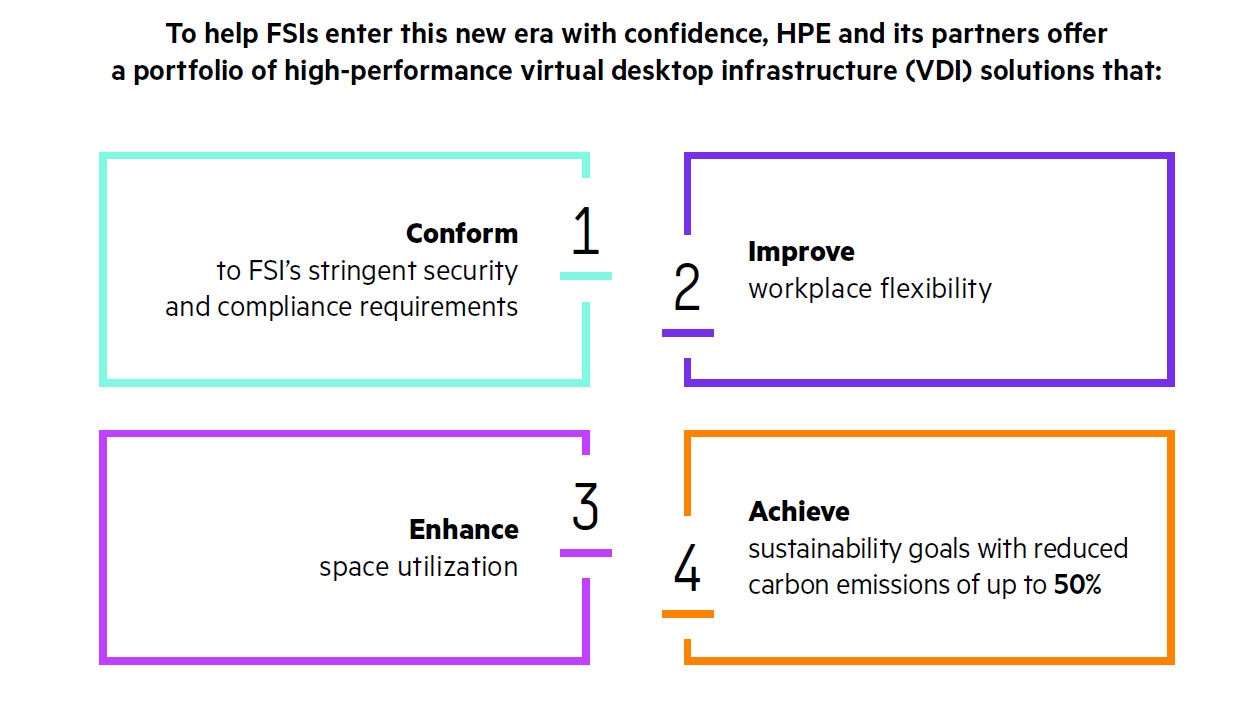 Learn more about transforming the workplace for financial services with VDI solutions from HPE and VMware.
Read how HPE and VMware are powering work environments in every industry with VDI solutions.
This industry overview explains how HPE and VMware are revolutionizing patient care in the healthcare industry.
Learn how HPE and VMware are empowering digital workplaces for enterprises in the manufacturing sector.
Learn more about how HPE can help you reinvent the way you work with a secure, reliable digital workplace.
1. PWC: Financial services firms look to a future that balances remote and in-office work
Services Experts
Hewlett Packard Enterprise
twitter.com/HPE_Pointnext
linkedin.com/showcase/hpe-pointnext-services/
hpe.com/pointnext


[ad_2]