Back in mid-June at Discover, part of our big news was HPE GreenLake Lighthouse. I got an early look at slides and hosted a couple of bloggers who got to hear about it a few days before Discover. I understood the basics but I wanted to better understand it. I reached out to a couple of guys who did some internal webinars on the topic and got them on my podcast. In this blog article, I'll share that podcast looking at HPE GreenLake Lighthouse. 
In this podcast, I have two HPE GreenLake Lighthouse experts to help explain it and how it fits with HPE GreenLake. I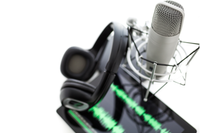 was joined by Chris Eidler and John Gromala, both from the Lighthouse team. It's clear to me that HPE has a huge lead over other infrastructure vendors (yes, looking at you Dell Apex) and what we're doing with HPE GreenLake Lighthouse is a strong proof-point of that. 
Listen to the podcast now!
Here are the places you can now subscribe to Around the IT Block presented by HPE! Google Podcast, Amazon Music, Stitcher, Podcast Addict, Player.fm, and Spotify podcast. Hopefully it will be on iTunes soon. Here's a blog post with more details about the new home for Around the IT Block podcast. 
What did we cover in the podcast?
Here is what we covered in the podcast. 
00:00 Intros
04:40 What is HPE GreenLake Lighthouse and why was it developed?
07:40 Where does HPE GreenLake Lighthouse fit into HPE GreenLake Cloud Services?
09:25 How do we simplify the customer experience with HPE GreenLake Lighthouse?
14:20 HPE GreenLake is either on-premises or in a colo – how does it compare to hyperscalers?
15:40 How does a customer get HPE GreenLake Lighthouse?
21:40 What does HPE GreenLake Lighthouse actually do?
24:00 Compare composbility with HPE Synergy to HPE GreenLake Lighthouse
25:30 What does HPE GreenLake Lighthouse support now and where is it going?
27:30 Summing up HPE GreenLake Lighthouse and HPE GreenLake
31:00 Wrap-up
Get more from me on HPE GreenLake
If you have been following me on social media and blogs here on hpe.com, you probably know me as a storage guy. Over the last couple of years, I've spread my wings a bit into other areas. One of those that I've focused on a lot is HPE GreenLake. Hearing our CEO Antonio Neri say that HPE will offer everything we do as a service by 2022 was a clear sign that I needed to put more effort into understanding HPE GreenLake and creating content to help you understand it more too. 
My preferred method of making sense of what we do at HPE are my Chalk Talks. And I've done four HPE GreenLake Chalk Talks to date. I think these are really good 5 minute videos that will help you better understand each topic. I'm sure I'll have another one some time in the near future that will incorporate HPE GreenLake Lighthouse. But for now, here are the ones you can watch: 
I've also put them in a playlist and when I add more HPE GreenLake Chalk Talks to my list, you'll find them here. 
About Calvin Zito (the IT Oddfather)

I'm Calvin Zito and November 2020 marked 37 years with HP/HPE. I was recently recognized as a 11 time VMware vExpert. As an early adopter of social media and active participant in communities, I've blogged for over 13 years. I'm also an avid Boise State fan. You can find me on Twitter as @CalvinZito. If you don't follow me on Twitter, please do it now! You can also contact me via email. 
Calvin Zito
Hewlett Packard Enterprise
twitter.com/HPE_GreenLake
linkedin.com/showcase/hpe-greenlake/
hpe.com/GreenLake