[ad_1]

BLOG UPDATED 10.14.21 with info about the last webinar in the series:  What's Next for the Future of Digital Work? Details below.
The way we work is changing fast. Businesses are seeking ways to build fluid, flexible environments that enable productivity across a variety of locations. If you're heading in that direction, check out this webinar series for expert insights and tips.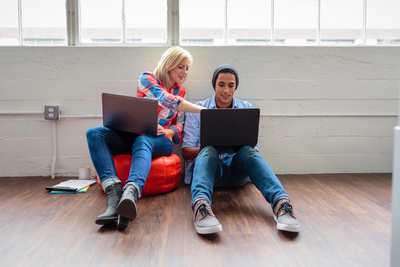 The evolution of the workplace continues at a rapid clip, with no sign of easing up any time soon. Even before the pandemic, companies were moving toward a fluid, flexible workplace that enabled productivity across a variety of locations. For many organizations, the need to extend remote work capabilities accelerated the move to a hybrid workplace. Now companies are reevaluating their needs and the available technologies and making choices that will shape work environments far into the future.
In the past few months, HPE has offered a slate of webinars to help companies understand and maximize the value of the new hybrid workplace. We've now completed the series, but all of them are available on demand — I've listed them below so you can click through. Together, they're a great resource for any business looking to build a secure, future-ready workplace.
Plus, I'm proud to announce that the sessions are now available closed-captioned in English, German, Spanish (Castilian and Latin America), French, Italian, Japanese and Portuguese.
Episode 1: Redefine the employee experience for your Hybrid Workplace. In any workplace initiative, the needs and preferences of the people who'll be using the solution should always be front-and-center. Leaders from HPE, IDC and AMD explain how new technologies can redefine the employee experience and enhance collaboration across your business.
Episode 2. How the right hybrid cloud platforms can transform your workplace. Why is the future of work hybrid? Our experts tackle that question and explore the top strategies for selecting the right hybrid cloud platform for your business. Learn how HPE can help you navigate and design your future workplace strategy.
Episode 3: Secure Connectivity for your Digital Enterprise. Delivering secure connectivity is more than ever critical to operations and digital transformation agendas. Learn how HPE can help you deliver a secure platform that meets your business needs with our solution blueprints and expertise in IT/OT and multi-cloud connectivity.
Episode 4: ​ Cyber Resiliency for the Hyper Connected Enterprise. The pandemic has turned a harsh spotlight on traditional approaches to business continuity and disaster recovery planning. Learn how you can build cyber resiliency into your technology foundation to support business operations and positive outcomes to ensure survivability in any type of adverse event.
Episode 5: Effective Management of Change for a Hybrid Workforce. The people aspect of the "new normal" is crucial, and success largely depends on ensuring a smooth transition to new ways of working. Watch this webinar to learn how HPE can help you foster a digital mindset and empower employees with a comprehensive Management of Change program.
Episode 6: Digitize Your Physical Workplace HPE experts Lin Nease and Chris Riddles discuss ways to tackle modern workplace challenges in order to meet real estate needs, deliver an exceptional employee experience, and ensure workplace health and safety. Learn about the latest intelligent workplace solutions and how to sustain productivity in the physical work environment.
Episode 7: How to redesign your distributed workforce​ Explore ways to build a frictionless experience across workspaces, bringing people and technology together to unleash productivity and potential, regardless of physical location.
Episode: 8: What's next for the future of digital work? HPE Global Chief Technologists from networking, digital workplace, and IoT explain how HPE is bringing the latest innovative solutions, powered by advanced technologies, to the hybrid workplace. Learn how to enable secure connectivity and safe digital workplaces for your employees across remote sites, facilities, your cloud, home offices – and everywhere in-between.
Learn more about how HPE can help you build a secure, safe digital workplace.
Learn more about HPE network, digital workplace, and edge services.
THIS BLOG WAS UPDATED 10.14.21.
Saadat Malik
VP, IoT and Intelligent Edge Services
Hewlett Packard Enterprise
twitter.com/HPE_Pointnext
linkedin.com/showcase/hpe-pointnext-services/
hpe.com/pointnext


[ad_2]