Training throughout your organization—including management and executive levels—is key to a well-performing team dynamic in the current business climate. This blog outlines four key reasons why training at the top really matters.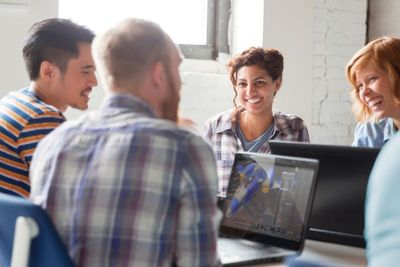 When you hear "training" or "education" in the context of the workplace, who do you envision getting trained? In many organizations, it's expected that new employees receive training as part of their onboarding process. But what about their managers? 43% of managers who have been in their role for less than a year say they've had no training at all, according to training solutions provider Lorman.1 What gives? Organizations are hyper-focused on training new hires while overlooking education and learning at the management and leadership level—a critical misstep in the creation of a healthy, dynamic workforce. Everyone, from entry-level to C-suite, should be involved in skills development and learning opportunities.
When it comes to management and leadership, the traditional organizational approach just isn't working anymore. Let's say you're an IT professional, excelling in your role. You're given the opportunity to step to the next chapter in your career: a management position. Exciting, right? But this journey misses something crucial: being a successful individual contributor doesn't mean you'll instinctively know how to lead others. To be a competent leader, you'll need to understand things like team dynamics, motivation, conflict resolution, and inclusion and diversity. There's a stark need for emotional intelligence to thrive in a leadership role. These types of "power skills" (a more artful term for "soft skills") like empathetic leadership and active listening have been historically undervalued in many organizations, but are especially important—and powerful—in today's workplace.
Here are four reasons why training your managers and executives is so important—plus some helpful tips to pull it off.
1. Underinvesting in leadership development means undermining your organization's performance.
When it comes to training, companies aren't making the necessary investments: The U.S. Bureau of Labor found that companies with fewer than 100 employees provided only 12 minutes of manager training every six months; organizations with 100-500 employees provided just 6 minutes.2 And for leadership development, the figures are even lower—organizations spend an estimated $370 billion on learning and development worldwide; leadership development represents a mere 1% of that total.³ Doesn't it make sense that the people who drive the success of your organization garner more than 1% of the L&D budget? By not investing in growth, personal development and leadership skills for managers and execs, you restrict their growth and undervalue their potential. This could impact employee satisfaction, create human resource issues, and at the extreme—put your organization's future at risk. Don't make this critical mistake. Implementing training courses demonstrates that your leaders are worthy of investment: you're giving them the opportunity to strengthen and stretch their talents, and deliver better results for the business—a win-win for both the employee and the organization.
2. Leaders set the tone and shape the culture of your organization.
Leaders set the tone and shape the culture, and largely drive the organization's success. That makes it especially important for leaders to have all the tools and capabilities needed for their roles. Many managers fall into their roles without the proper training, and while some may navigate and learn as they go, others might sink and bring the whole team down with them.
Take, for instance, a manager who is well trained in managing conflict. They would have the expertise needed to keep their team running smoothly in the face of workplace issues that may arise. Or let's say you have a leader who is an absolute pro on inclusion and diversity—that leader will be dedicated to creating a positive, enriching workplace culture through action. The areas that your leaders are proficient in will shape the experience for the entire team and, in the bigger picture, the organization.
So don't let a "domino effect" created by untrained leaders come crashing down onto the rest of the organization. If your managers and executives aren't prepared and well-trained, how can you expect the rest of your organization to embrace training opportunities (or have enthusiasm about doing so)?
3. Training leaders helps to alleviate a widening skill gap that exists in all tiers of the workplace.
Global industries, especially IT, are experiencing an unprecedented talent crunch. There simply aren't enough skilled workers to go around. And the competition for 'the best of the best' is intense.
Do organizations grasp the importance of training, reskilling and upskilling? Based on the numbers, perhaps not. As amplified in the wake of the Great Resignation, organizations must stand out when it comes to hiring and retaining top talent, especially at the leadership level. There are consequences for failing to address this widening skill gap: a report from Forrester found that some 74% of CEOs are concerned about the availability of key skills and how skills shortages could constrain their organizational growth, while only 29% of HR decision-makers in their survey said they prioritize upskilling.
Basically, if you're looking to hire someone for a leadership role and you aren't having any luck, don't panic. It's likely you have someone on your team with untapped potential that can take on the challenge (with some management training to get them set up for success!). 
4. Training will future-proof your leaders (and your organization).
To be training-focused is to be future-oriented. Understanding the value of skills development and knowing which skills matter—and what is coming next—are vital as organizations accelerate forward. The IT industry is skills development and training-oriented by design because technologies change constantly. So your leaders need to keep up the pace, too. Keeping up with relevant workplace practices and management skills strengthens the health of your organization, now and in the future.
The bottom line is that training can help future-proof your leadership, and in turn, braces your organization for navigating an ever-changing digital landscape.
A solid strategy for training your leaders means solid results
To execute all of this successfully, you'll need a strategy in place. Here are some pointers to guide your strategy for training managers and execs:
Make the learning collaborative, not authoritative.
Ensure that the education opportunities meet short-term needs while also serving the long-term vision for your organization.
Consider the issues that are relevant right now within the leadership space. Things like inclusivity and diversity, corporate culture, generational differences, leadership in remote/hybrid workplaces and empathetic leadership skills are all important to consider.
The workplace is changing quickly, and so are learning and development strategies. Now is the time to break away from antiquated training practices and move toward training everyone, at each point in their careers.
---
Ranked as an industry leader by IDC, HPE Education Services is paving the way for innovative education and training solutions. Learn from professional educators and advance your skills and career to new heights.
Why HPE Education Services?
Comprehensive worldwide HPE technical, IT industry and personal development training
Training and certification preparation for ITIL®, Security, VMware®, Linux, Microsoft and more
Innovative training options that match your unique learning style, including eLearning courses
Anytime, anywhere remote learning through our HPE Digital Learner subscription
Earn digital badges for proof of training and share your skills with your professional network
1 Lorman : 39 statistics that prove the value of employee training
2 HR.com: Are you worth more than 6-12 minutes of training?
³ Statista: Global spending in the workplace training industry 2008-2020, by region 
Kristina Lechuga
Hewlett Packard Enterprise
twitter.com/HPE_GreenLake
linkedin.com/showcase/hpe-greenlake/
hpe.com/us/en/greenlake