[ad_1]

Two new Qwiic Alphanumeric Displays are now available in pink and green, a new Qwiic Motor Driver Kit is here, and we take another look at Raspberry Pi's newest HAT.
Hello everyone! This week we have a lot of new products to show off, starting with new Qwiic Alphanumeric Displays in pink and green. These are recent graduates from SparkX so be sure to give them a warm welcome. Following that, we have a new Qwic Motor Driver Kit that will help you get up and running with your next robotics project. After the new kit, we take another look at the Raspberry Pi Build HAT and Power Supply that released earlier this week, as well as two upgraded Pan/Tilt Camera Platforms from Arducam. Now, let's jump in and take a closer look!
Double your segment game with these new Qwiic Alphanumeric Displays
We are quite familiar with 7-segment displays. We see them on our alarm clocks, ovens and microwaves. By adding more segments to each digit you can display more than just numbers! Introducing the brand new SparkFun Qwiic Alphanumeric Display. These pink and green 14-segment digits allow you to display all sorts of numbers, characters, and symbols. With Qwiic, simply plug it in and go. No soldering, no figuring out which is SDA or SCL, and no voltage regulation or translation required!
Over the next few weeks, we'll be releasing new colors of these displays. Make sure to check back for four more color options!
---
The SparkFun Qwiic Motor Driver Kit gives you the basic parts needed to get up and running quickly with a motor driven project. Along with the included Qwiic Motor Driver is a 100mm Qwiic cable, a pair of hobby gearmotors, and a LiPo battery as a power supply.
---
The Raspberry Pi Build HAT is an add-on board that connects to the 40-pin GPIO header of your Raspberry Pi, designed in collaboration with LEGO® Education to make it easy to control LEGO® Technic™ motors and sensors with Raspberry Pi computers.
You'll need to power your Raspberry Pi Build HAT projects, of course, and with the Raspberry Pi Build HAT Power Supply, you'll be able to. This 48W power supply will power the Build HAT and connected LEGO® Technic™ motors, as well as your Raspberry Pi computer.
Both of these products are available for pre-order. Due to global supply chain, we cannot guarantee a date when these products will be in stock but we hope to have them in-house within the next few weeks.
---
If you're looking for a sturdy pan-tilt mechanism for most of the cameras used with Arduino and Raspberry Pi but don't want the weight of metal, this is the rig for you. The Upgraded Camera Pan Tilt Platforms from Arducam take the basics of a three piece plastic platform connected through two digital servos (included), and adds an I²C controller board for ease of use with your favorite microcontroller or SBC platform. If you have your own servo controller that you'd prefer to use, we also offer the platform without a controller board as well.
---
As a reminder, we still have some SkeleBoards still available, but Halloween is right around the corner and stock is running short! We have less than 100 units left in stock, so if you want to pick one up, now's the time. The SparkFun Thing Plus SkeleBoard features a matte black PCB with a super scary skeleton design in white silk and one of our favorite references out of the last few years: (DOOT). We've also made sure to include a 2.4GHz U.FL PCB Antenna so you won't need to worry about picking up any additional parts to get your board up and running! Other than that, this board is identical to our existing SparkFun Thing Plus – ESP32 WROOM (U.FL).
Rules & Information:
Add the SparkFun Thing Plus SkeleBoard – ESP32 WROOM (U.FL) to your cart!
Use code "SKELEBOARD21" during checkout when your cart reaches
$100 or more (not including this board or shipping/tax/discounts)
There is an order limit of five max per customer.
No rainchecks or backorders will be allowed. We will not be
allowing the combining of orders during this sale.
Distributor and Reseller accounts will not be eligible.
Don't worry, you can also purchase this product on its own, even without the promo code!
---
That's it for this week! As always, we can't wait to see what you make! Shoot us a tweet @sparkfun, or let us know on Instagram or Facebook. We'd love to see what projects you've made! Please be safe out there, be kind to one another, and we'll see you next week with even more new products!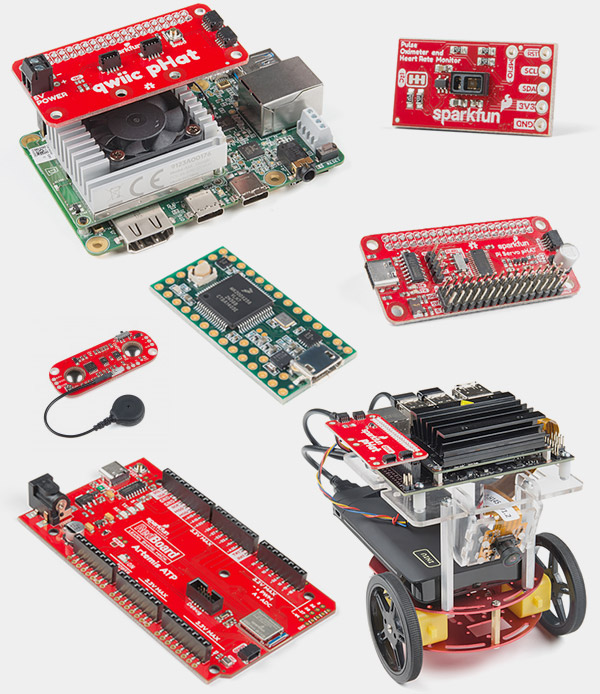 Never miss a new product!


[ad_2]